Information about how to reach the Entrepot venue
Het Entrepot is easily accessible by bike. The ride from Bruges train station to Het Entrepot takes about 14 minutes. There is also a guarded bicycle shed that is partly covered. There are also separate parking spaces for cargo bikes.
The bus stop 'Haven' is served by buses 14, 41 and 42 from Bruges station and is 150 metres from Het Entrepot.
You can also take the free shuttle bus from the station and get off at the Lodewijk Coiseaukaai stop. More info on the website of the City of Bruges.
There are free parking spaces on the premises of Het Entrepot. Parking spots for people who experience difficulty with mobility are located close to the Entrance of Het Entrepot.
If our parking spaces are full, you can also park for free on the public car park 'Randparking Coiseaukaai', where there is room for 75 cars.
The arts route on the Entrepot venue
This route will be also signposted on the event site.
All locations on the event site will be wheelchair accessible, except the rooftop which can only be reached by stairs. If you need any assistance, please speak to our KONVOOI crew members.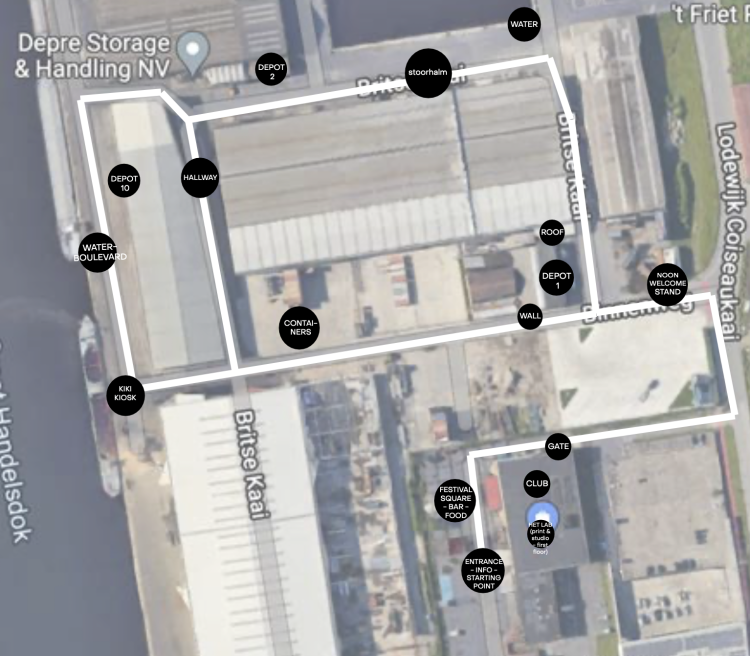 Food
Festival
The foodstands on the festivalsite will provide vegetarian and vegan food. Gluten-free options will also be available.
For more information about allergens and irritants for food  on the festivalsite, please contact Sander (sander@hetentrepot.be).
Free tap water will be available at the bar.
Campsite
Feestcomité Sint-Jozef will provide a lovely brunch at the campsite of our festival. This brunch will however not be vegan, but there are vegetarian options.
For more information about allergens and irritants for food on the festival site, please contact Klara (klara@hetentrepot.be).
Free tap water will be available at the indoor bar.
Information for people who are deaf or hard of hearing
In this section we highlight the parts of KONVOOI which might be difficult to follow if you experience auditory impairments. In general, our program won't be subtitled or interpreted so this might sometimes be difficult. However our festival will provide an abundance of interesting visual stimuli so we hope you can still have a lovely experience.
The sound tour during the Prelude is a morning walk that centers sound through headphones. Without the headphones you can still take a morning walk and hover off, dew trippin' around the port of Bruges.
Stoorhalm is a radio platform, a space that can function as an artistic meeting place, as a platform for performances and sound interventions. This platform centers the auditory, but will also provide interesting visual stimuli.
The traveling poetic platform by In welke zin is a boat that will sail the terrain of the festival, mooring at different places. On and around this boat in welke zin will host recitals, readings, workshops, talks, poetry and slam. Due to the literary nature of the platform spoken word will sometimes take the centre stage, but this accompanied by written words and visual stimuli.
Talks: During KONVOOI different talks will be hosted. These talks aren't subtitled or interpreted so following with auditory impairments might be difficult. (Talk Safe Night Life, Talk with Apolline Vranken)
Information for people who experience visual impairments
We are currently working on an option to make our online timetable more clearly indicated to people who experience visual impairment. If you have any tips or feedback on this, please contact klara@hetentrepot.be
Time tables will be printed out largely at the different event locations.
Unfortunately braille won't be available during this edition of KONVOOI.
Guide dogs are allowed on all locations.
If you need any help or assistance, please don't hesitate to speak to one of our crew members or call Klara on the number +32489 17 94 52.
Earplugs
Earplugs will be available for free at the entrance of the festival site.
During our club nights you can also get free earplugs at the entrance of the club.
Personal space
Asking for consent is important when entering someone's personal space. That is why we would like to give you some information about pieces that ask for close contact with the audience, and might possibly enter your personal space.
'Plus one' is a performance about intimacy, shown to one spectator at a time. It proposes the act of recreating a puzzle together with the artist. The image that slowly appears, opens up a space for conversations about togetherness, affinity, confidentiality and other topics.
'Translations Of Home' is a ritual that Anders Herrebaut will perform together with the audience. This collaborative piece of work questions the concept of home and how it differs from a house. Personal narratives can become a collective experience and vice versa. Hopefully, we can come to a new understanding of home.
During the NOON try-out on Sunday people are kindly invited into the performance. This event takes place in the open and airy outside space of the harbor, so it will at all times be possible to take a step back and watch from a more distanced stance.
Sensitive topics
Because of many reasons, it can feel uncomfortable to interact with certain topics. The whole KONVOOI crew would like to respect your boundaries in this regard. Down below we will give an overview of some content and trigger warnings so you can decide when and how to engage.
The theater performance Guilty of love deals with explicit sexual violence. If you want to watch the piece but are hesitant to do so, please reach out to Klara or any other crew member and we can assist you to feel calm and safe. If you saw this piece and are in need of a conversation afterwards? With all questions about violence and abuse you can call the professional help line 1712. Call 1712 or via www.1712.be
Sitting, resting and calming down
On the first floor of the Entrepot building we will provide all vistors of KONVOOI a space that is dedicated to calming down and taking a rest. This will be a quiet room where you can just sit down and enjoy the calmness, a place where stimuli will be lowered. If you need help getting to this location, don't hesitate to ask one of our crew members and they will gladly guide you.
This year we opted for a shorter route around the harbor than we did the previous years. However, this walk can still be challenging. If you need to sit down for a moment but can't find a chair, please speak to one of our crew members or call Klara (+32489 17 94 52).
On Friday- and Saturdaynight you can indulge yourself in our carefully curated club nights. We hope you can fully explore the wonders of the night, but hope you find your much needed rest and sleep afterwards. If you need a place to stay, KONVOOI has a campsite at your disposal. Don't forget to secure your spot here.