Have a nice and easy rest at the campsite of KONVOOI 2022. During the festival, you can stay the night at Buurtwerk Sint-Jozef, on a 20 minutes walking distance from the KONVOOI festival site.
Adress: Landjuwelenstraat 43, 8000 Brugge
The people of Feestcomité Sint-Jozef will welcome you there with open arms.
This campingsite will have several toilets and showers to your disposal.
This resting place is located in a quiet neighborhood, so we ask all visitors to respect the calmness of the location. After 10 PM you can still have soft conversations inside the building, but outside noises should be limited.
Glass and fire are not allowed.
Opening hours
From Friday 26th of August 11 AM until Monday 29th of August 11 AM
Cost
1 night= 7 euros + 1.21 euros administration fee
3 nights = 15 euros + 1.21 administration fee
Breakfast
On Saturday and Sunday Feestcomité Sint-Jozef will provide a lovely brunch from 9 AM until 2 PM. It will cost you 7 euros, to be paid in cash on the campingsite. If you would like to have this, please send a message to klara@hetentrepot.be
If you have any questions…
please contact Klara Camerlinck: klara@hetentrepot.be, 0489 17 94 52
The route to the campsite will be signposted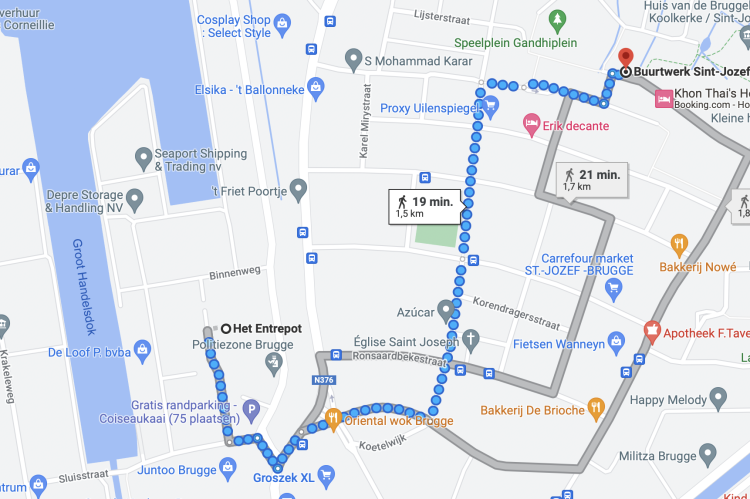 This campsite will be hosted by…
The lovely people of Feestcomité Sint-Jozef.  We thank them with all our hearts for their kind support. We also would like to thank Buurthuis Sint-Jozef for offering us their location and help.