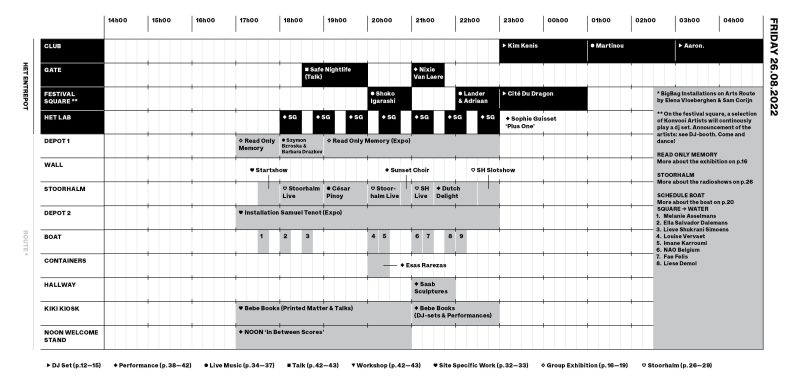 Lander & Adriaan

LIVE CONCERT / Lander & Adriaan are bringing their quantum thrills of interplanetary ambient drones, drumming frenzy and mushy basslines, all gently weaved into some raw sweatdripping dance music. Watch on Youtube

'Plus One'

PERFORMANCE / Sophie Guisset will host Plus One, a performance about intimacy, shown to one spectator at a time. It proposes the act of recreating a puzzle together with the artist. The image that slowly appears, opens up a space for conversations about togetherness, affinity, confidentiality and other topics. Sign up for this performance

'SAAB SCULPTURE VII'

PERFORMANCE / During Konvooi Amber Meulenijzer will bring a performance with her Saab Sculpture VII. Tailored to the acoustics of the harbour's architecture, this travelling installation will resonate and interact with the present sounds, bringing a sound piece especially made for this environment.

Shoko Igarashi

LIVE CONCERT / Shoko Igarashi has written and compiled a series of colourful electronic songs, joining diverse influences such as Sly & the Family Stone, Earth Wind & Fire, Japanese City-Pop, '70s jazz fusion and the anime film music that she grew up learning to play. She seamlessly combines these different elements into her own unique sound and makes it feel astonishingly natural. Listen on Soundcloud

Kim Kenis

CLUB NIGHT / Whether she is sending stargazers into the ether with her ambient selections or getting hearts and bass thumping on the dancefloor with her minimalistic techno sets, Kim Kenis brings a bewitching tenderness to her DJ-ing. Listen on Soundcloud

Martinou Live

CLUB NIGHT / Martinou's liveset balances between the conventions of house and techno, masked by a veil of mystery where billowing pads and crooked rhythms merge and create something sublime.

Aaron.

CLUB NIGHT / Aaron. will play a game of repel and attract, bumping between glistening electronica over stripped-down minimal to airy ambient or some new beat. With his deep, industrial, yet warm and melancholic tunes he will be building up tension to let everything go in one big sigh.

Leon De Bruijne

PERFORMANCE / During KONVOOI, Leon De Bruijne will turn 8 street lanterns into spinning tops with the help of a power drill. The tops light up when spinning at high speed. The performance ends when all tops stop turning and drop to the ground one after another. www.leondebruijne.nl

Samuel Tenot

EXPO / Samuel Tenot gathered garbage around Het Entrepot, while the festival site near the port was only used for loading and unloading goods. He collected materials by form and materiality. By assembling the garbage differently, Samuel Tenot created miniature worlds with decomposing elements. www.samueltenot.com

Désirée 0100 & Luis Ramirez Muñoz

PERFORMANCE / 'Esas Rarezas' is an ongoing series of performances that evolve and change according to the place and time of presentation. Luis and Désirée reflect on the contemporary condition of dance, and non-western codes of movement and music. As a duo, they also highlight their different dance culture (Luis has a solid academic training, Désirée is a self-taught dance artist) and develop creative ways to communicate and collaborate as artists. Finally, Esas Rarezas is built as an ode to the act gathering as a radical act of self-care, survival and poetry. 

Cité Du Dragon

CLUB NIGHT / Cité Du Dragon is a collective between terrestrial inhabitants who are crossing the borders of utopia and dystopia while discovering mystical sounds from the past and future. Cité has grown into an online radio platform. Under the same name it's a DJ collective that organizes hangout events and nightlife parties. Listen on YouTube

Read Only Memory

EXPO / Group exhibition curated by Dajo Van den Bussche. With: Lotte Van den Audenaeren, Tom Hallet, Bas van den Hout, Jelena Vanoverbeek, Brecht Heytens, Sara Pena, Mirre Nimmegeers & Gilles Dusong

Sunset Choir

CHOIR / Young composer Daan Geysen, created a soundtrack for KONVOOI Arts Festival. A composition for a choir of eight voices. Based on the poem ''t Er viel 'ne Keer' of the famous Bruges poet Guido Gezelle.

BEBE BOOKS

KIKI KIOSK / Queer collective Bebe Books spent a month as a resident in Het Entrepot. During August, they experimented with several printing techniques in Het Lab. To showcase the results of their residency and their older creations, Bebe Books constructed the Kiki Kiosk. There you can hang out, read fanzines, gossip, or do a little dance.

Sam Corijn & Elena Vloeberghen

INSTALLATION / Sam Corijn & Elena Vloeberghen have created a dynamic universe based on everyday happenings that unfold within the port of Bruges. By means of turn and return, Corijn & Vloeberghen released a site specific work made from exotic, excess scraps: 'BIGBAG'.

NOON Collective

PERFORMANCE / During the festival days NOON will share some multimedial scores that were created for KONVOOI. Intertwining with the installations and specificities of the harbor, you are invited for an exploration through the art route where space and time could have a different taste, a different feeling.

Senne Vanderschelden & Marius Lefever

RADIO PLATFORM / Senne and Marius build a radio space that can function as an artistic meeting place, as a platform for performances and sound interventions: 'stoorhalm'. By choosing the medium of radio they want to explore how they can translate the visible image into an auditive imagination.

In welke zin

TRAVELING POETIC PLATFORM / As 'In welke zin' we have commandeered a vessel that was stranded in the port. With this boat we will sail the terrain of the festival, mooring at different places. On and around this boat we organize recitals, readings, workshops, talks, poetry and slam.

Miguel Rózpide, Szymon Brzoska & Barbara Drazkov

LIVE MUSIC / Using sound and visual vocabulary that addresses different social and political issues our planet is facing today, Miguel Rózpide, Szymon Brzoska & Barbara Drazkov create an enclosed environment breaking the passivity of the audience. By integrating time and space, their work invites the spectator into an experiential and sinister universe.

Cesar De Sutter-Pinoy

LIVE MUSIC / Cesar De Sutter-Pinoy (Peenoise) plays a solo set in quadrophony (Surround). He places the both intimate and monumental set in the space and lets the auditory become visual. With his guitar, electronics and vocals, he creates a unique universe where fragility is juxtaposed with playfulness, the epic with abstraction and everything at once.

Nixie Van Laere

PERFORMANCE / 'i fell in luv with hiv n big pharma broke my heart.' Looking at HIV as a genetic code that has been built into their DNA, nixie searches for a new family tree and different forms of kinship through medical agency, pleasure and joy, in community, transforming militancy, learning from baby and grief as a shared labor.

Safe Nightlife

TALK / Nowadays, nightlife evokes images of dimly lit clubs and drugs or excess. But nightlife can be colorful and wonderful at the same time. It is a place for experiment, the discovery of self and togetherness. Through a panel of night ravens of various expertise, we will focus on the ingredients of a healthy nightlife. What are nightlife's intrinsic qualities? What is overlooked? How can we assure its future and make it durable?