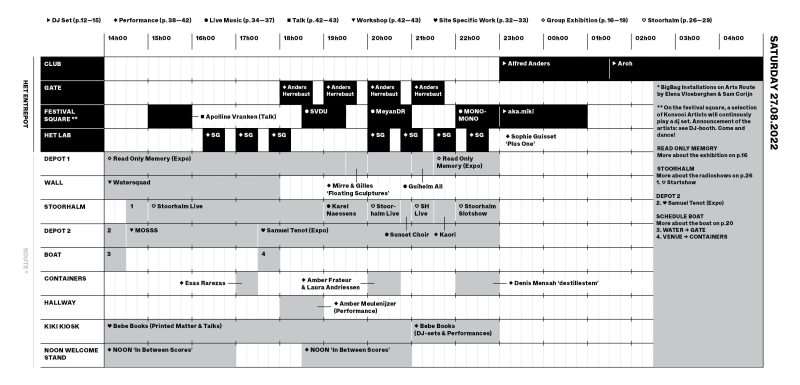 'HACHŌ'

PERFORMANCE / Hachō is a Japanese concept that translates as wavelength or fluctuation. When someone's wavelength matches another person's, communication happens naturally. Based on this concept Kaori Ishiguro created an audiovisual dance trip that centers frequencies, heartbeats, brain waves, respiration and light cycles.

'SAAB SCULPTURE VII'

PERFORMANCE / During Konvooi Amber Meulenijzer will bring a performance with her Saab Sculpture VII. Tailored to the acoustics of the harbour's architecture, this travelling installation will resonate and interact with the present sounds, bringing a sound piece especially made for this environment. 

aka.miki

DJ-SET / aka.miki has found a home and lost their heart in the bass heavy and UK-inspired leftfield club music. They carefully select and curate their tracks to fit into an out of the ordinary and anti-standardized DJ set with ups, downs but no middle-grounds.

MeyanDR

LIVE CONCERT / MeyanDR makes music that is melancholic, beat-driven and aimed at the dancefloor. Inspired by his eclectic musical background, MeyanDR weaves a unique sound that combines elements of classical music, breakbeat and his favourite cartoons with industrial textures and glitchy sounds.

Apolline Vranken

TALK / Apolline Vranken, founder of the platform "L'architecture qui dégenre" and author of "Des béguinages à l'architecture féministe", sets out a feminist cartography of theories and practices articulating spatial design and gender studies. In this talk she will explore and uncover some very concrete ways to erase gender and public/private boundaries in our cities.

Alfred Anders

CLUB NIGHT / Alfred Anders, DJ and founder of Crevette Records, is an investigator, passionately digging deep for unknown gems that move, entrance, and intrigue. His expertise lies in beats which capture a primal essence, joy, and curiosity, paying no mind to genre restrictions.

Aroh

CLUB NIGHT / Aroh's musical style is wide-ranging, flirting with the outskirts of Wave, Techno and Rave, always transfusing them into a solid package destined to make the crowd move.

Anders Herrebaut

PERFORMANCE / 'Translations Of Home' is a ritual that Anders Herrebaut will perform together with the audience. This collaborative piece of work questions the concept of home and how it differs from a house. Personal narratives can become a collective experience and vice versa. Hopefully, we can come to a new understanding of a home.  

MONOMONO

MUSIC / The live AV show ICON, created by MONOMONO & Weltraumgrafik, combines live electro-acoustic instruments, electronica and rave elements with a high-end visual experience. The show presents a story of forgotten or rather muted female heroines and combines that with the relatively new fear of the complete digitization and asset-ification of cultural content through the ideas of Web 3.0. Listen on Spotify

Karel Naessens

LIVE MUSIC / After some years onstage with 'Peenoise', Karel Naessens gives a glance into his own sound-world. With an experimental but decisive approach to synthesizers and live electronics he builds ideas expressively. He might deconstruct them into chaos, or into almost nothing at all. He draws inspiration from art pop phenomena such as Tirzah or Kate Bush, from sonic horror such as Lucrecia Dalt, from slow burn such as Kali Malone or Kara-Lis Coverdale.

Samuel Tenot

EXPO / Samuel Tenot gathered garbage around Het Entrepot, while the festival site near the port was only used for loading and unloading goods. He collected materials by form and materiality. By assembling the garbage differently, Samuel Tenot created miniature worlds with decomposing elements. www.samueltenot.com

Amber Frateur & Laura Andriessen

With a multilingual word research, Amber Frateur offers insight into the bodily experience of existence. She gropes for universal themes such as origins, intimacy, spirit and liminality. Her words come to life in interaction with other art forms and artists. Playing with seriousness, aesthetics and absurdity, her written and spoken language merges with the illustrations of Laura Andriessen.

Read Only Memory

EXPO / Group exhibition curated by Dajo Van den Bussche. With: Lotte Van den Audenaeren, Tom Hallet, Bas van den Hout, Jelena Vanoverbeek, Brecht Heytens, Sara Pena, Mirre Nimmegeers & Gilles Dusong

Sunset Choir

CHOIR / Young composer Daan Geysen, created a soundtrack for KONVOOI Arts Festival. A composition for a choir of eight voices. Based on the poem ''t Er viel 'ne Keer' of the famous Bruges poet Guido Gezelle.

BEBE BOOKS

KIKI KIOSK / Queer collective Bebe Books spent a month as a resident in Het Entrepot. During August, they experimented with several printing techniques in Het Lab. To showcase the results of their residency and their older creations, Bebe Books constructed the Kiki Kiosk. There you can hang out, read fanzines, gossip, or do a little dance.

Sam Corijn & Elena Vloeberghen

INSTALLATION / Sam Corijn & Elena Vloeberghen have created a dynamic universe based on everyday happenings that unfold within the port of Bruges. By means of turn and return, Corijn & Vloeberghen released a site specific work made from exotic, excess scraps: 'BIGBAG'.

NOON Collective

PERFORMANCE / During the festival days NOON will share some multimedial scores that were created for KONVOOI. Intertwining with the installations and specificities of the harbor, you are invited for an exploration through the art route where space and time could have a different taste, a different feeling.

In welke zin

TRAVELING POETIC PLATFORM / As 'In welke zin' we have commandeered a vessel that was stranded in the port. With this boat we will sail the terrain of the festival, mooring at different places. On and around this boat we organize recitals, readings, workshops, talks, poetry and slam.

Senne Vanderschelden & Marius Lefever

RADIO PLATFORM / Senne and Marius build a radio space that can function as an artistic meeting place, as a platform for performances and sound interventions: 'stoorhalm'. By choosing the medium of radio they want to explore how they can translate the visible image into an auditive imagination.

Guilhem All

LIVE MUSIC / Guilhem All has built a musical universe forged through his experiences in the underground spheres of the free, punk and improv scenes. His music oscillates between approximative industrial and defective electroacoustic and weaves along the line of an improvised journey from which we only know the point of departure : a crafted installation made out from 3 orange and yellow turntables.

Watersquad

WORKSHOP / Water Squad is a drip-in workshop initiated by Stan D'Haene. Participants are invited to practice water writing on site. The focus of the workshop is utilizing gardening tools for rewriting and thinking through rewriting as process-oriented art practice. It will be wet.

MOSSS

WORKSHOP / MOSSS invites you for an explorative walk throughout the harbor and perceptions of the ecosystems inhabiting our inner and outer landscapes. This 3 hour workshop is based on tools extracted from the brand new publication 'Radical Survival Toolkit — an open research on adaptation to the unknown and instability'. Sign up here

SVDU

LIVE MUSIC / SVDU will be performing alongside poet, performer and musician Victor Guezennac. Both of them attended the Royal Arts Academy of Brussels in the performance section. Together they share a passion for abstract hip hop, and spoken word poetry. They will prepare a form that's in between concert and performance in delivering personal and imaginary worlds.